Rotary Dragon Boat Races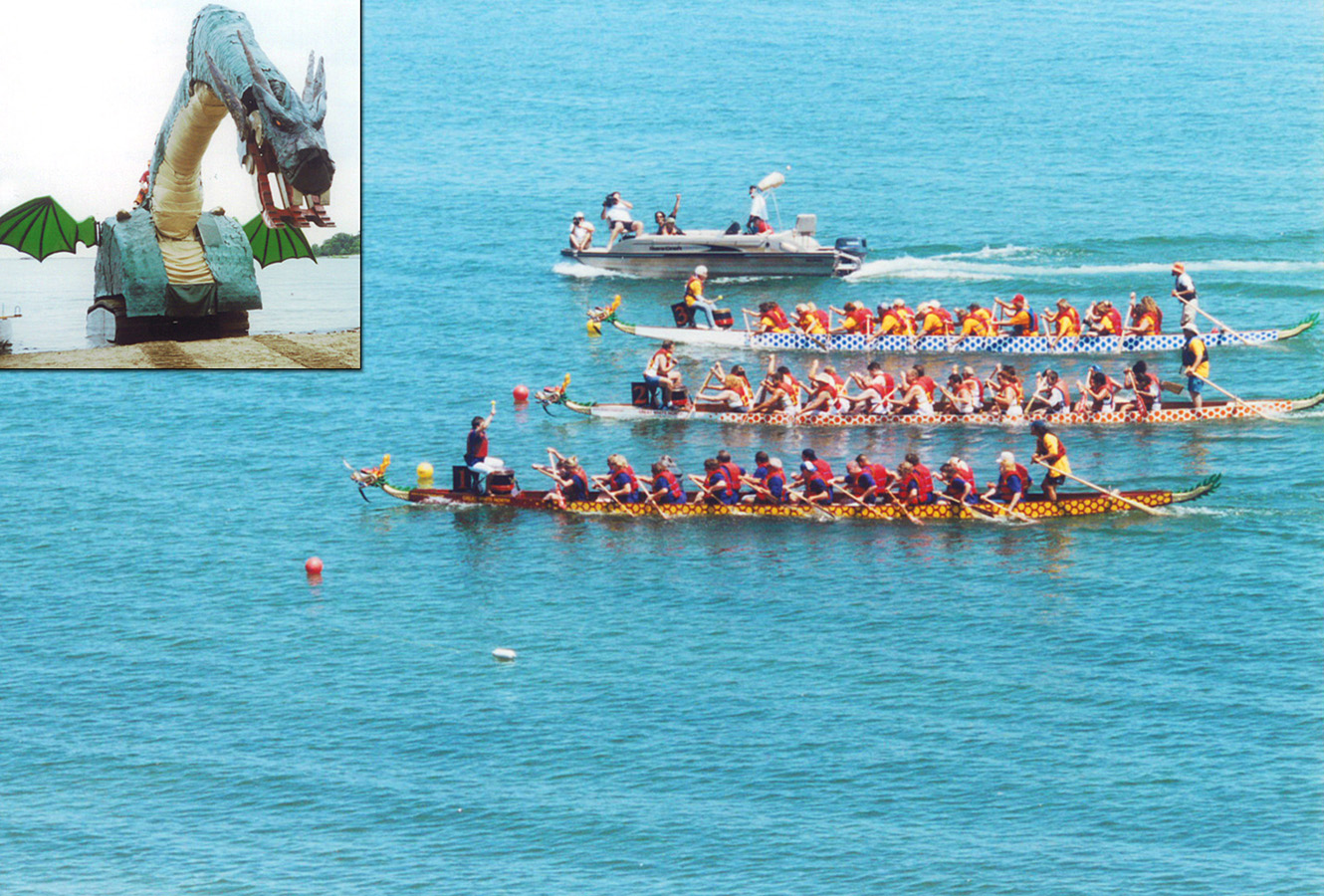 By Norris Richardson
The Great Midwest Dragon Boat Festival was started in 2004 and went up to 2010. It was held at Racine's Samuel Myers Park each July inside the Break Walls of Lake Michigan which made a shallow lagoon for the boat races.
The Racine Rotary West Club needed a new fundraising event. Charlie Rice went to a boat show and happened to be wearing his Rotary pin. A Rotarian from another club spotted it and approached Charlie to say that our club should think about doing a Dragon Boat Race. After Charlie found out about what it all entailed, he brought it to the club and we decided to try it.
All we had to do was to buy 2 dragon boats, a boat trailer, paddles, life jackets, train 6 Steers people and find a place to store and dock the boats. We also had to find a place where the teams could practice on the Root River and a place to hold the races when we were ready.
A Dragon Boat is a very long cigar shaped boat that holds 20 paddlers, a drummer and a steersperson. The name derived from the wooden Dragon head on the bow and Dragon tail on the stern of the boat.
A 22 person team boards the boat and sits 2 by 2 on 10 seats. A Drummer sits in the bow and beats a drum to set the pace for the 20 paddlers. The steersman stands in the stern of the boats and controls the boats course with a very long steering paddle that acts like a rudder. He has nothing to hold on to since the steering paddle is unsecured so his position is quite precarious.
The race is simple, the first boat to cross the finish line is the winner. At Myers Park we set up 30 plus campsites, one for each team, where they could rest, etc. between the different races.
Food tents and a Beer tent were provided for the teams and the attendees. A big party was held in the Beer tent, with live music, after all the races were done.
Next to the park is a very long hill that overlooks the lagoon. The spectators would sit on the hillside and watch the races, while a PA System would announce which teams were racing and which teams won.
After a few years, the event got so large that West asked Downtown Rotary Club to help out.
With everyone's help, Rotary was able to give over $100,000.00 dollars in community support.